More than a wave: Ollerup International students made themselves feel like a tsunami
22/09/2016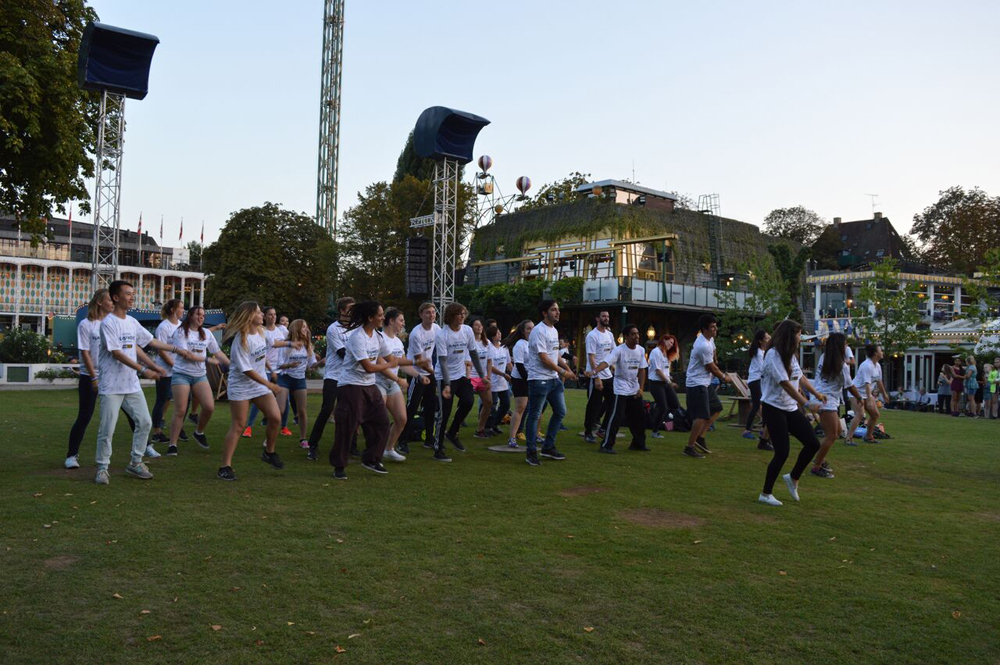 They promised to bring the world to Copenhagen, and they definitely did. If you were in or around Copenhagen last week you probably saw a group of young, active and motivated students from all over the world sending out loud a message of happiness, mutual understanding and the importance of being active.
Songs, dances, martial arts, gymnastics, running, biking, FlashMOVEs and much more were part of the Ollerup Academy of Physical flashmoveEducation students' repertoire as they moved through the city. They surprised the locals as well as tourists at iconic landmarks like Rådhuspladsen (Copenhagen City Hall), Amagertorvet, Superkilen Park in Nørrebro, Kogens Have Park, and the famous Little Mermaid statue by Langelinie. Their final activity was to perform the FlashMOVE on main lawn of the Tivoli Park with many curious onlookers clapping and joining in the joy of being active, young and a bit foolish.
And last week was not just about pop up events, random stretching sessions and cartwheel BeActiveraces, the students also visited institutions and organisations where sport and physical activity is at the top of the agenda. On Monday evening they joined the running NGO Right to Movement for some activities and on Tuesday, they visited the ISCA office where Secretary General Jacob Schouenborg invited them to discuss concepts like sport for all, grassroots sports and physical activity for health. They had a glimpse of what ISCA does in its everyday work, its mission and vision, and how they can take part in the action by becoming MOVE Agents or volunteers. They also visited the GAME street sport facility, where they learned the story of the place, how it works for the community and the benefits of being part of Copenhagen street sports scene. Finally, on Thursday, they participated in a special session of Parkour in Christiania, the self-organised community just south of the Danish capital.
As they moved through the city, walking or biking, doing head stands and carrying a music box with the FlashMOVE signature tune Ale'O, the international students from the Ollerup Academy of Physical Education clearly made an impact and surprised the city. We hope that the same energy will continue with them over the semester and when they come back to their home countries. We hope the wave keeps moving and moving.