ISCA and Ollerup students make UN City in Copenhagen a #BeActive hub of activity
28/09/2017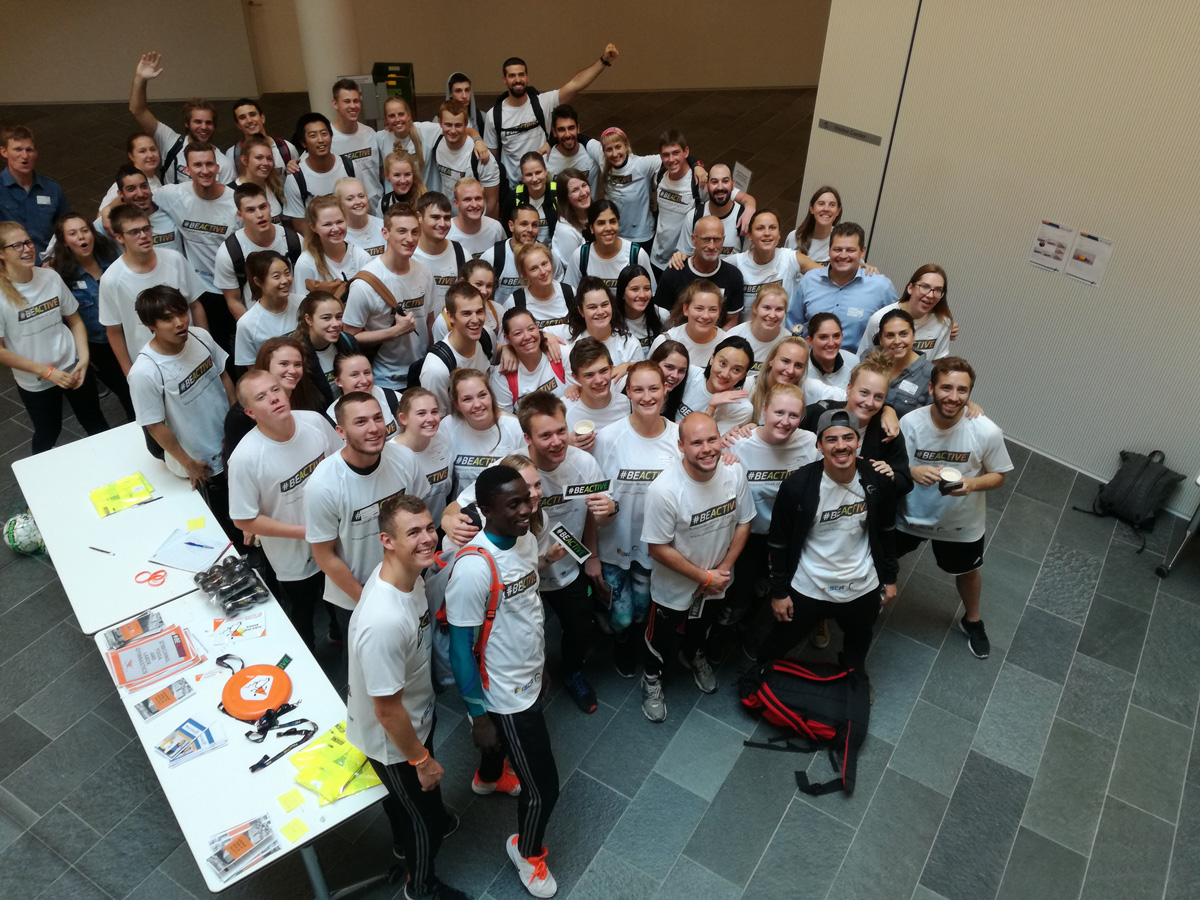 photo by Nathalie Germain Julskov, WHO Europe
With support from WHO Europe and the Ollerup Academy of Physical Education, the most active day of the year – 27 September – came to life at UN City in Copenhagen during an extraordinary lunch hour. ISCA entered the building with 60 students from Ollerup, who set up 10 #BeActive stations in the foyer and surprised staff from different UN departments and WHO Europe with ISCA's FlashMOVE, which was the official flash mob for the European Week of Sport in 2016.
Soon, ISCA's EVS volunteers and the Ollerup students were accompanied by several staff who wanted to try a hoola-hoop, spinning a baton, boxing and salsa. They also let loose in the typically formal surroundings, playing favourites such as football, volleyball and table tennis in front of the reception desk.
The European Fitness Badge fitness tests got staff flying in the air with post-it notes in hand – swatting them as high on the wall as they could. It was a battle, and WHO Europe Technical Officer for Nutrition, Jo Jewell, was one of the day's highest jumpers. He is also a great supporter of the battle against physical activity and aims through his work to support advocacy efforts among civil society organisations to influence policy in this field.
"Civil society is a critical player in terms of reviewing evidence, looking at potential solutions, being creative and thinking out of the box about ways we can address this issue of physical inactivity," Jewell says, referring to the increasing prevalence of inactivity-related health problems.
"In the European region the most important causes of death and disability are non-communicable diseases, so heart disease, cancers, diabetes, and physical inactivity and sedentary behaviours are some of the most important risk factors contributing to that burden of disease. So getting populations more active and building urban environments and cities where people can be physically active as part of everyday life is extremely important," Jewell says.
For our sector in Europe, Wednesday 27 September has been the most active day in the year, coinciding with the European Week of Sport, NowWeMOVE campaign events the FlashMOVE and European Fitness Day, and the ukactive initiative National Fitness Day. September has also been an important month for the WHO and the EU, who have each moved forward with respective plans to introduce a WHO Global Action Plan to Promote Physical Activity and the EU's Tartu Call for a Healthy Lifestyle.
Jewell says he believes every governmental and non-governmental action counts when it comes to physical activity promotion.
"I think weeks like the European week of physical activity and sport are extremely important, both in terms of raising awareness with national governments about the need to take some action, but also with the public, reminding them of the importance of being physically active," he says.
See our full gallery of photos from the ISCA, Ollerup and WHO Europe event at UN City on our Facebook page.
Find out more about WHO Europe, UN City and the European Week of Sport in Denmark here.
ISCA is the official coordinator of the European Week of Sport in Denmark.