#UseTheStairs on No Elevators Day – and spread the message to #BeActive every day!
03/24/2023
By Maria Malyshkina, ISCA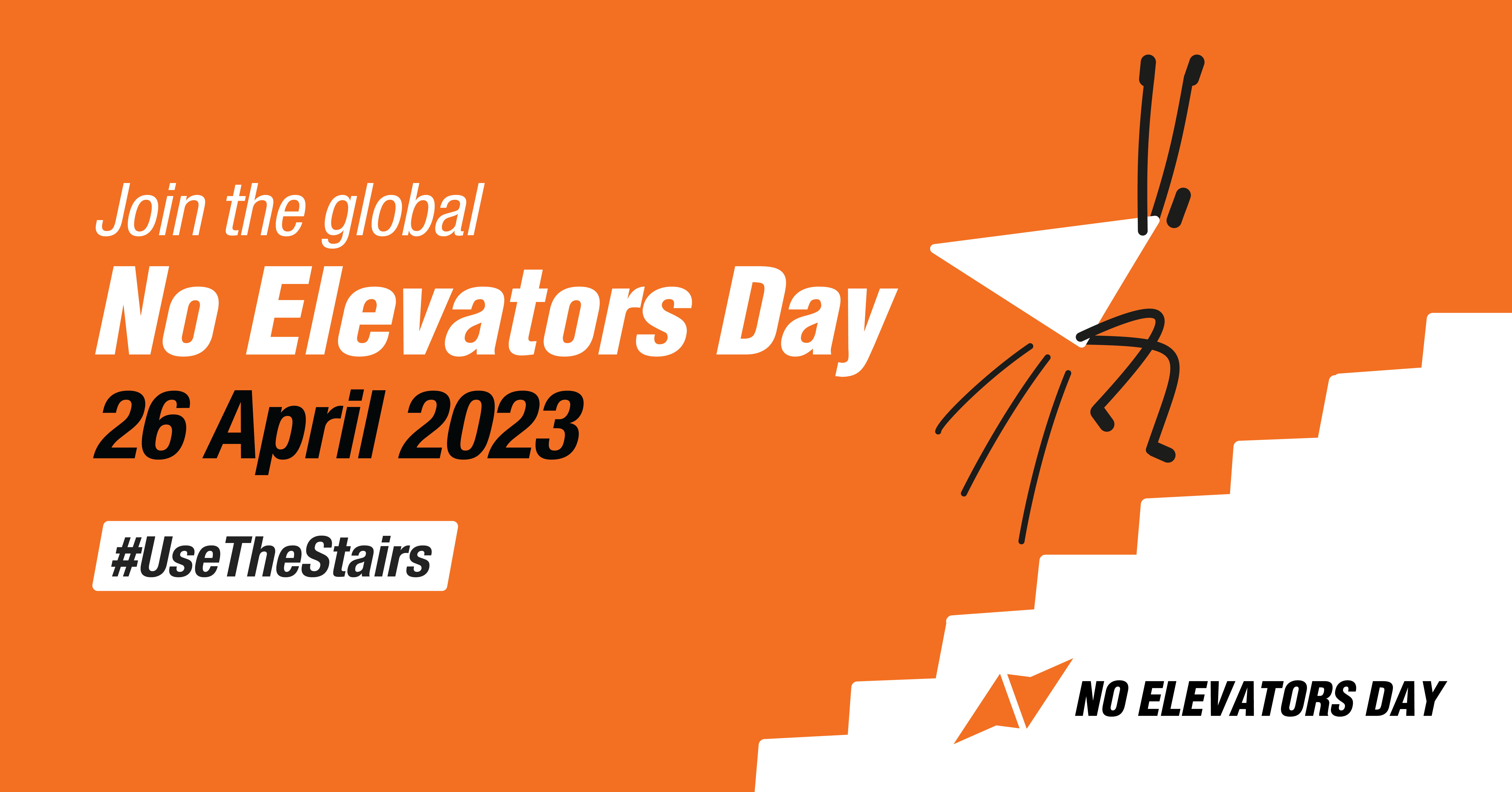 There is only a month to go before the global No Elevators Day 2023 - a fun and free yearly event aimed at encouraging people to choose the stairs over elevators or escalators and nudge their colleagues and friends to do the same. On 26 April 2023, we invite people all over the world to take the challenge to #UseTheStairs for their health and wellbeing and celebrate the 9th edition of No Elevators Day.
On the last Wednesday of April every year, we celebrate the joy of being active by doing something as simple as using the stairs instead of elevators and escalators.
Why join No Elevators Day?
Having an intense day at the office or school? Switch off, stand up, step up – take a brain break by running up a down a couple of flights.
Spending long hours commuting? Stretch your legs and raise your pulse by taking the stairs instead of escalators – or climb up the escalator instead of standing still.
Check out our infographic below for five reasons why we think you should be part of No Elevators Day.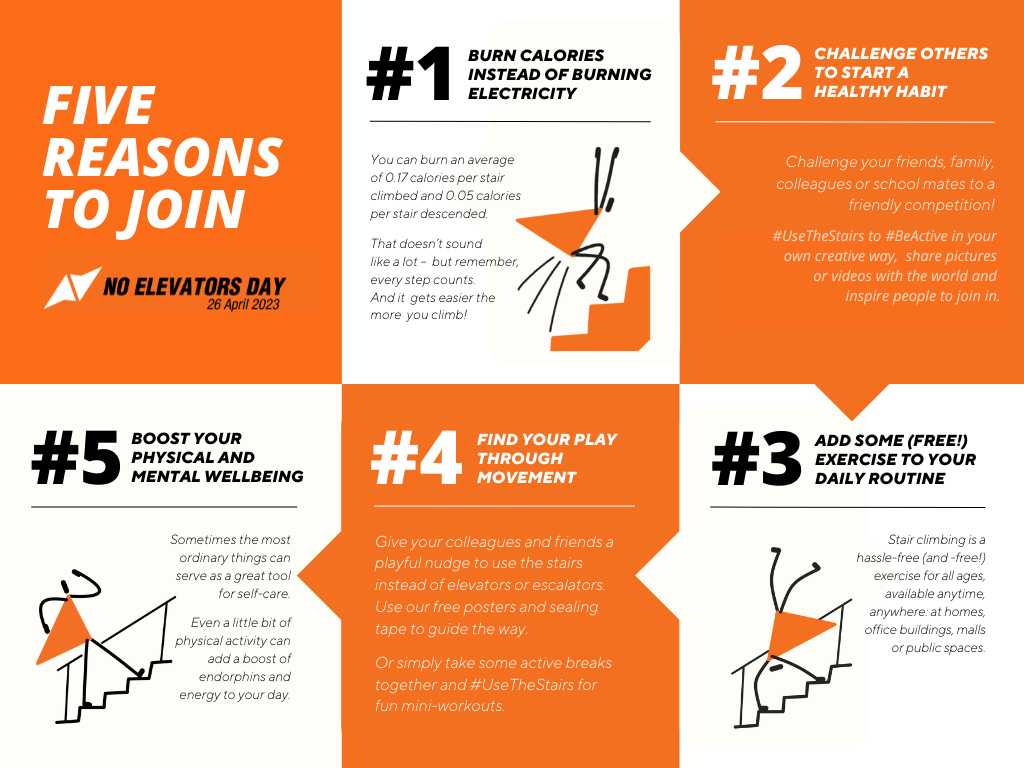 Not a big fan of climbing the stairs? Try looking at them differently! We have a few ideas for an easy stair workout.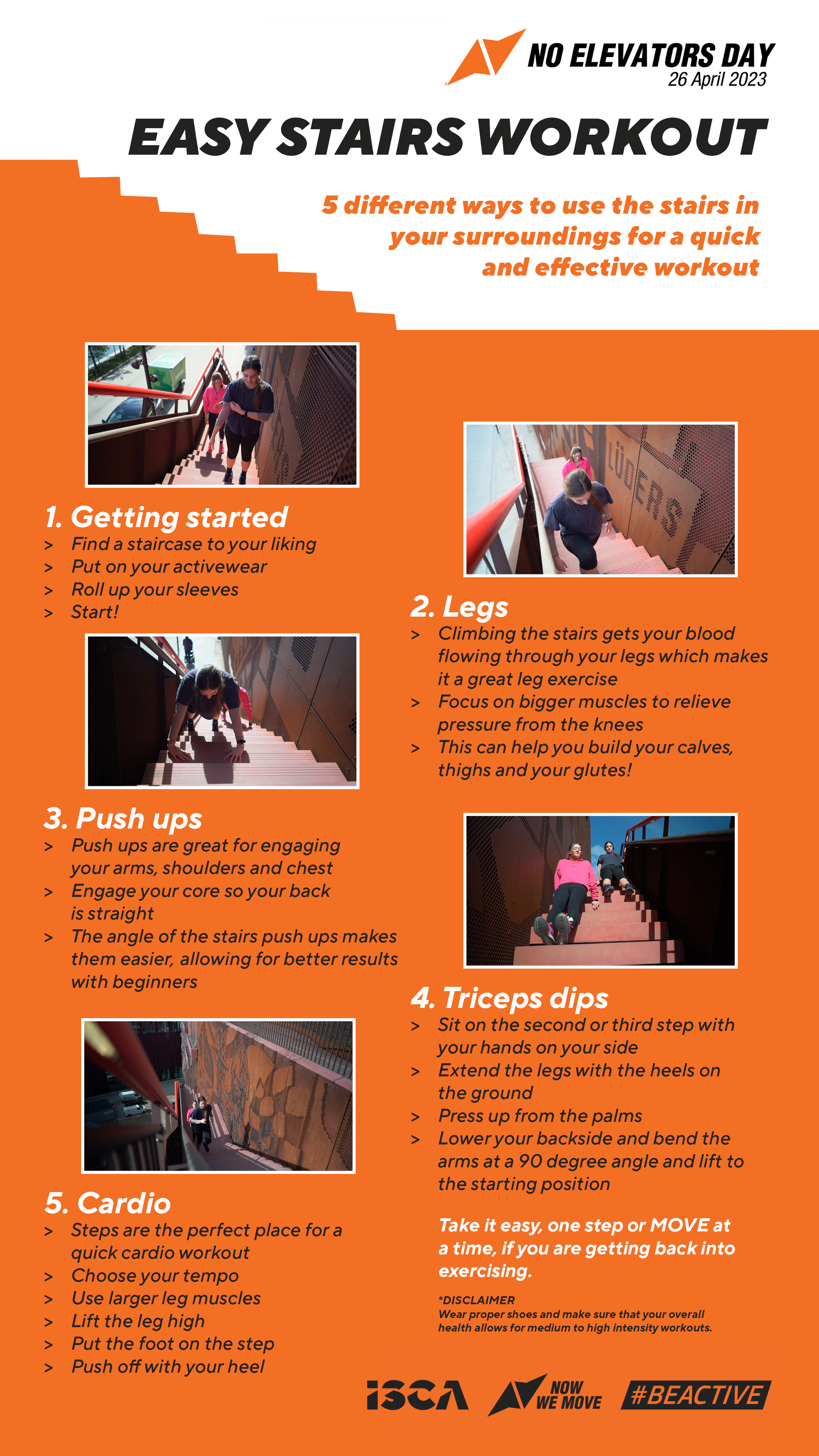 Share how you #UseTheStairs
Show the world how you #UseTheStairs to exercise or take a brain break during the day – share your creative ideas on social media and make sure you use the hashtags #NoElevatorsDay, #UseTheStairs and #BeActive.
Inspire your friends by participating in our friendly Stairs Challenge.
If you want to make an even bigger impact, organise a #NoElevatorsDay activity for your colleagues, neighbours, classmates or friends – watch the video to find out how.
Visit the official No Elevators Day website to find more information, register your events, download the resources and become part of the community of MOVErs!