About the week
The European Week of Sport aims to promote sport and physical activity across Europe. The Week is for everyone, regardless of age, background or fitness level. With a focus on grassroots initiatives, it will inspire Europeans to #BeActive on a regular basis and create opportunities in peoples' everyday lives to exercise more.
#BeActive is a call to action to get Europeans moving!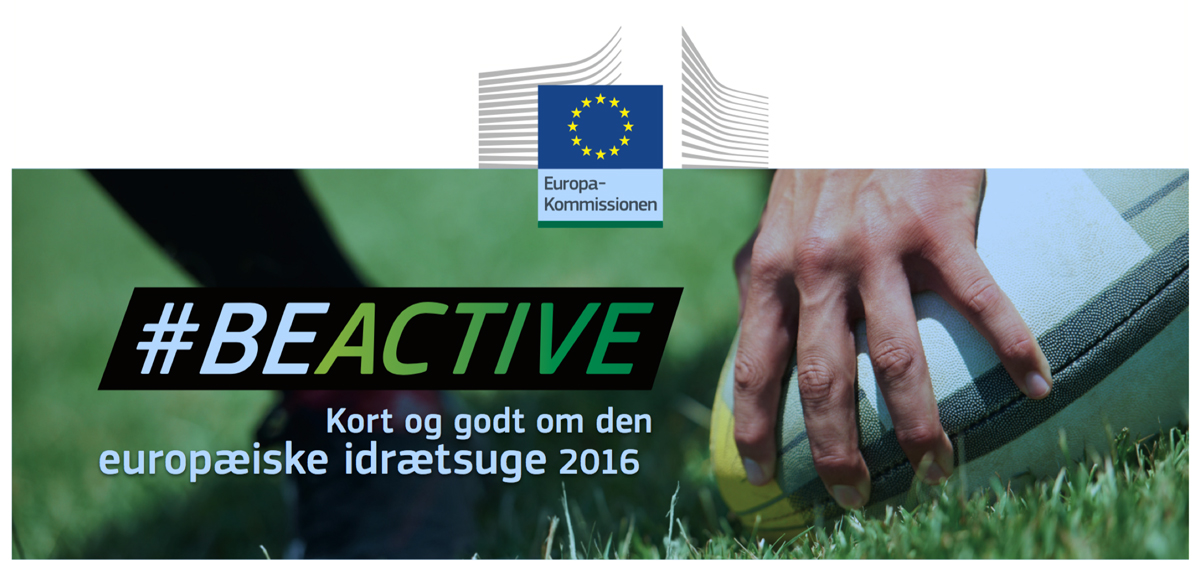 Education

#BeActive kids can be smarter, healthier and more confident.

Today's European youth is not as active as previous generations. Children are less physically active at age fifteen than they were at age eleven, and childhood obesity is on the rise.
WHO- Social determinants of health and well-being among young people – Health behaviour in school-aged children (HBSC).

Children and youth should ideally be physically active at least 60 minutes a day. Schools offer some of the best opportunities for children to engage in regular physical activity, particularly for those who come from families that lack the means to access such opportunities elsewhere. Early education is also a good starting point for children to begin developing positive habits that they can carry on into adulthood.

There are many ways for children and young people to be active in nursery, school, college or university settings, from choosing an active commute, to PE classes and active breaks, to sitting down less in all subject classes!

Using educational environments to improve habits around sport and physical activity can help to build more active generations and is a valuable investment in the future of our society and economy. Parents and teachers have an important role to play in helping children and young people to get moving more both inside and outside the classroom.

Workplace

#BeActive employees can be more creative, productive and successful.

The vast majority of jobs in the EU have a low overall energy demand. In a typical working day, we spend between five and six hours sitting at our desks (Jason A Bennie, Josephine Y Chau, Hidde P van der Ploeg, et al. The prevalence and correlates of sitting in European adults - a comparison of 32 Eurobarometer-participating countries. International Journal of Behavioral Nutrition and Physical Activity. 2013).

Healthy adults aged 18 to 65 years old should aim to achieve a minimum of 30 minutes of moderate-intensity physical activity five days a week, or at least 20 minutes of vigorous-intensity physical activity three days a week . However recent lifestyle changes and technological advances have reinforced this trend.

Europeans spend an average 41.5 hours a week at work (in full–time employment), the workplace is an ideal setting in which to reach a large portion of the population and encourage and support them with ideas and opportunities to challenge sedentary lifestyles. Such an approach has the added benefit of saving employers' money because employees that are more physically active tend to be more productive and to take less sick days.

Employers and business associations can play an important role in empowering employees to be active in the workplace, by improving access and providing incentives and opportunities through wellbeing programmes.

Outdoors

#BeActive outdoor spaces help to create healthier communities.

There are ample opportunities in urban and rural areas to #BeActive outdoors that many Europeans are either unaware of, or unable to access.

Our living environment plays an important role in shaping our physical activity patterns.

The urban environment, where a large majority of Europeans live, can offer multiple, diverse opportunities for participation in sport and physical activity, whether through safe, open spaces, bicycle lanes, walking paths and running tracks, parks, playgrounds and other recreational facilities.

Rural areas, and the great outdoors, also provide attractive, accessible and free spaces in which to get moving, enabling walking, jogging, hiking, swimming and all kinds of other activities outside of traditional sport and fitness settings.

Efforts made by local authorities and urban planners to improve access to, and the quality of, outdoor spaces can help encourage more people to take advantage of what is in or near their neighbourhood to be more physically active.

Sport Clubs & Fitness Centres

Sport clubs and fitness centres are invaluable partners in a #BeActive society.

Three out of four Europeans are not a member of a club where they can engage in sport and physical activity (2014: Special Eurobarometer on Sport and Physical Activity).

Sport clubs and fitness centres play an important role in providing opportunities for people to be active by offering equipment, games and classes in safe, fun and engaging settings.

Sport clubs also have a broader societal role to play. They can support social inclusion and more cohesive communities by enabling people of all ages, cultures and backgrounds to get together and have fun! They can also provide young people, through volunteering, with an opportunity to acquire skills and competences that complement formal education.

Collaboration with schools, workplaces and local authorities can enable sport clubs and fitness centres to reach a far wider and more diverse audience, as well as to help fill gaps in infrastructure and expertise in these particular settings. Such an approach can not only help people to squeeze in more opportunities to be active in their daily life, but can also contribute to building healthier communities.