Let's #BeActive together: register your events for the European Week of Sport Denmark
26/05/2020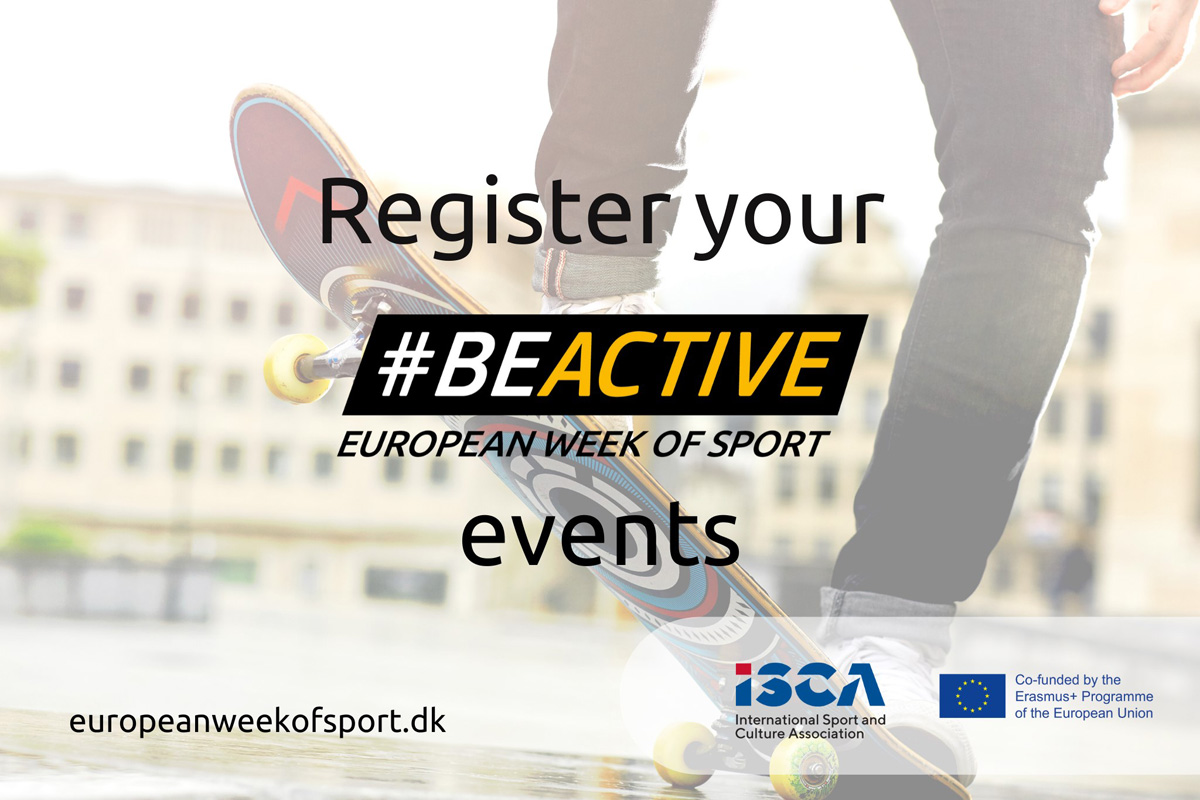 The European Week of Sport will be back this September as a combination of offline and online activities. As our communities start to reopen over the coming months, the campaign will showcase how Europeans are moving again – in their sports clubs, at school, at work, in public spaces and at home.
The registration portal for events that are part of the European Week of Sport Denmark is now launched! Are you planning to organise a sports event in Denmark in the period of 1 September – 15 October 2020? Follow a few easy steps to register your activity here.
Both offline and online actions are welcome and anyone can register an event, including sports clubs, associations, fitness centres, schools, kindergartens, companies, community centres and individuals. The only condition is to follow the authorities' recommendations and guidelines.
These are just a few benefits of joining the European Week of Sport Denmark:
Participation in an international campaign
Your event will become a part of the international #BeActive campaign initiated by the European Commission to promote physical activity and healthy lifestyle
Promotion on the European Week of Sport Denmark website
All of the registered events will automatically appear on the general events calendar on the European Week of Sport website. If you want your event story to be published in the news feed on the website, send us an email at ic@isca-web.org.
#BeActive promo package
The first 50 registered events will get a #BeActive promo package. This contains useful merchandising items as t-shirts, water bottles or reflex vests, which you can distribute among the organisers, volunteers and participants.
#BeActive visual identity
When registered as a part of the European Week of Sport, the events can use the #BeActive visual identity that highlights your event belongs to the international campaign. To get access to the #BeActive graphic package, contact us at ic@isca-web.org.
New members
By offering interesting activities during the Week you can attract new members to your club. Read here the success story of street sports clubs in the East Jutland region that significantly increased their number of members after organising StreetAttack events during the European Week of Sport 2019.
About the European Week of Sport
The European Week of Sport is the initiative of the European Commission. It takes place annually from 23 to 30 September. The Week is for everyone, regardless of age, background or fitness level. With a focus on grassroots initiatives, it aims to inspire Europeans to #BeActive on a regular basis and create opportunities in peoples' everyday lives to exercise more. The national coordinating body for the European Week of Sport in Denmark is the International Sport and Culture Association (ISCA).
Your contact person for any inquires regarding the European Week of Sport Denmark
Irina Coreachina, ISCA Project Coordinator
Email: ic@isca-web.org